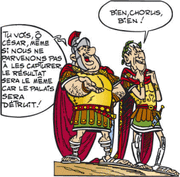 Operachorus
is a ruthless Roman general, with a flushed face in front of endless rage, which only feels in his element when he stands in the midst of the battle and the opportunity is given to demonstrate the power of Rome and to fold up some rebellious. Not surprising therefore that
Caesar
entrusted him with the task of preventing the construction of the palace, built for the Edifis
Cleopatra
leaves. Operachorus and moves to the big guns to the architects of the queen to force the queen to task and resorts to all means. Attack by the so-called turtle tank tactics, attacking from all sides at once, with the catapult bombardments ... Not content with stopping the construction of the palace, he orchestrated the destruction! Until such time as Cleopatra,
Asterix
at the deception of the poor loser Caesar teaches rushes. Although to move without first can, but with high gain by an Egyptian brass band corps. According to them demanding an end this destructive interruption of construction work. And now must endure Operachorus as an ordinary Legionör the rage of a queen who is more authoritarian than even he ...
Community content is available under
CC-BY-SA
unless otherwise noted.