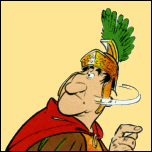 As a great speaker who shows his talent in front of large audiences, using General
Motus
, commander of the garrison of Burdigala (Bordeaux), the beautiful opportunity to demonstrate the power of Rome: he had managed to take
Asterix
and
Obelix
captured the indomitable, Gauls who amuse themselves with making the Roman garrisons in all Gaul ridiculous. In truth, his prisoners are
Villanus
and
Unscrupulus
, Roman street robbers who had stolen our heroes their bag with the hint of delicacies and meet their physical descriptions ("a little man and a big fat man with a bag" ...). Worse still, burst into our true Gauls during the speech of their "arrest" violent and regulate the misunderstanding, not without cashing in the course of their journey again collected culinary specialties. Wants a brawl later the poor Motus, who announced just been great, and his public manhunt success, hear nothing, especially anything by the Gauls.
Community content is available under
CC-BY-SA
unless otherwise noted.