Unknown
?
Nationality
Roman (Most likely)
First appearance
Asterix Conquers America
Homeless Roman Man is a character that is a homeless old man with one eye missing, bad teeth and old torn clothes, because he is homeless. He makes only a very short appearance in Asterix Conquers America, when he is seen asking for some money while the Roman Centurion is on his way to Rome, after being beat up by Obelix. The homeless man suddenly sees him, and he gets scared and quickily runs away when he sees him, so he doesn't get crushed.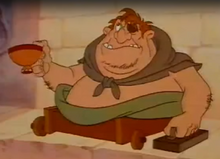 Community content is available under
CC-BY-SA
unless otherwise noted.